Baby Photography Sessions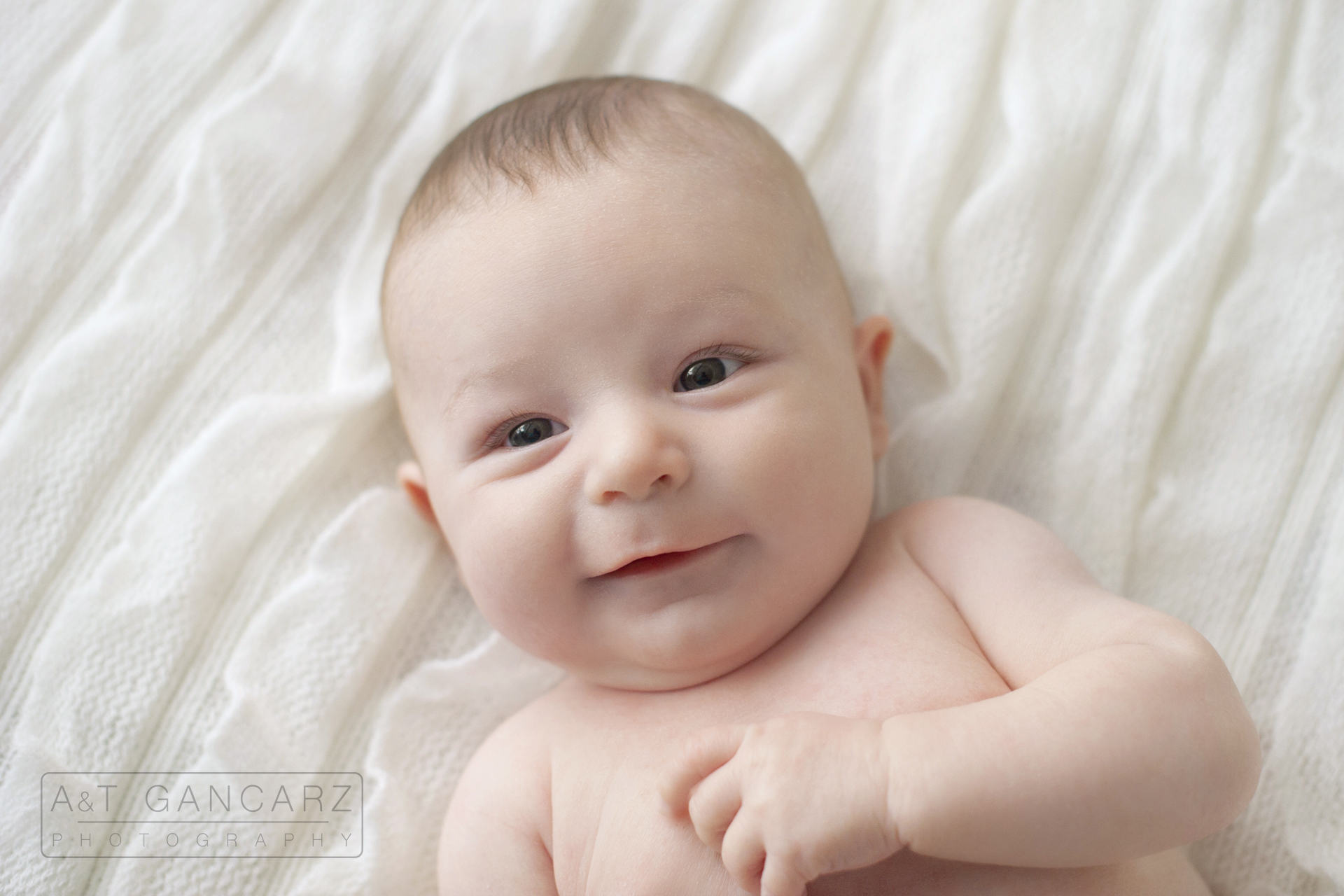 Watch me smile session
Firstly we are very happy you are visiting our page. We hope you will enjoy the stay.
After few months of having the baby you realise how quickly it develops and changes. It is amazing when you are able to experience all the changes to your baby behaviour and expressions. We have been shooting babies for long time and nearly every parent who visited us on a Newborn Session decides to follow the development of their new family member.
When your baby reaches about 4 month of life it becomes very lively individual that loves to share all the smiles and giggles in the world. It is very exciting moment for the photo shoot as baby at this age react very friendly to your voice. We can truly enjoy beauty of baby's eyes when they look right in the camera. Most of the babies at 4th month can hold their head up while they are on their belies and it is what we are looking for. We have many props and accessories that help to support little ones in this difficult for them pose but the end effect is worth all the preparations.
The Session
Sessions are booked in few weeks in advance and they last approx 1 hour in our studio. We will discuss all the session aspects with you prior to the booking; colour schemes, accessories and package size so everything will be prepared once you arrive for the shoot. If you have some accessories that you'd like to use on the session don't worry – we will of course photograph it. Many babies has their favourite teddy or other soft toy that they like to sleep with.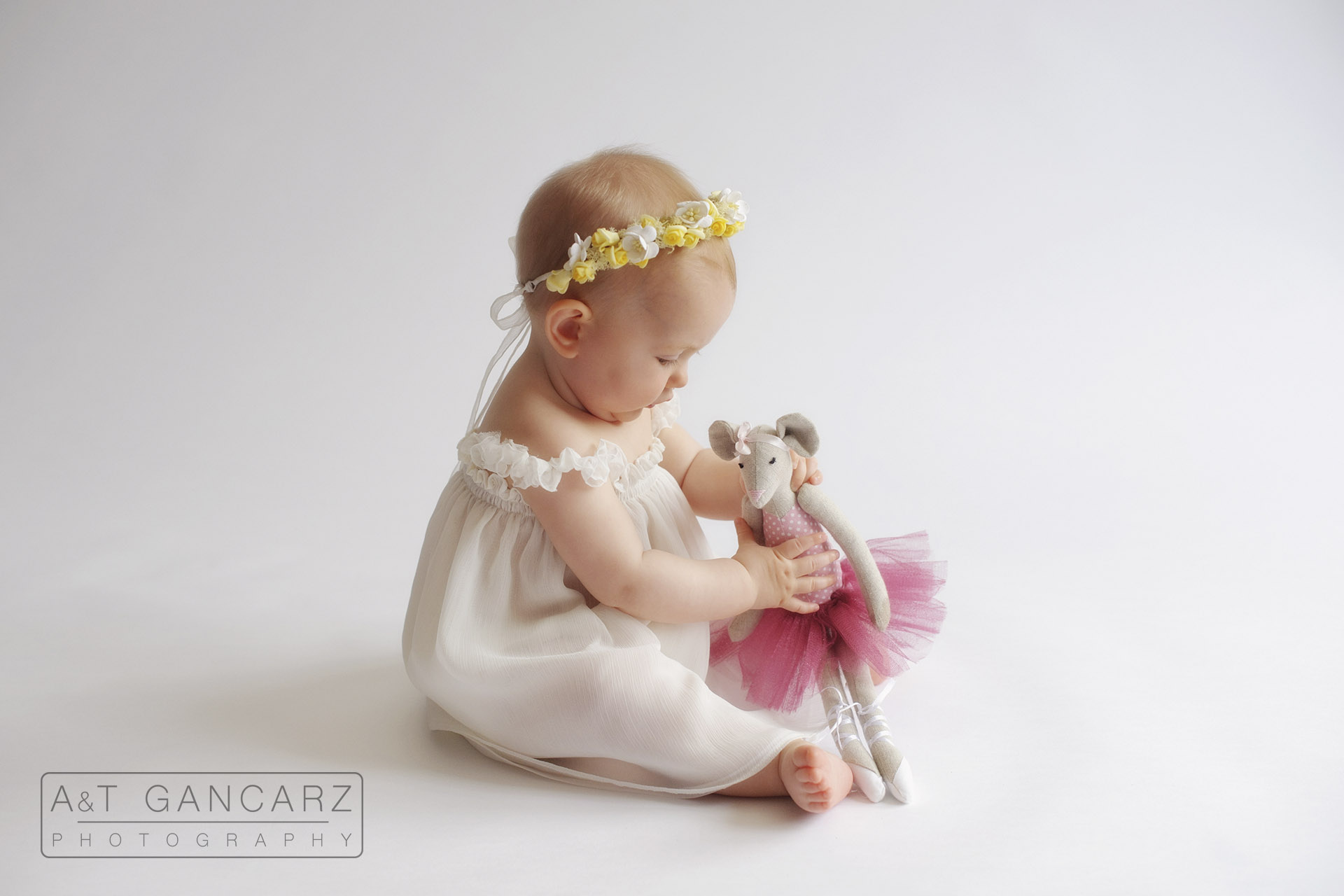 Watch me grow session
Every parent loves to watch and observe their child progress knowing that first year of their lives is full of changes and learning new things every day. Once they discover their hands they will start grabbing different objects and toys. When they start "baby talk" it never stops and it makes everyone smile. Once they know how to roll over they will be doing it all the times trying to move around. When your baby gets to about 6-8 months it will start sitting up. This is great moment for the pictures as everyone is so proud of achieving such a milestone. It is great progress in each baby's live as right now they are able to explore the surroundings from much better view. They are amazed with their new skill and everyone just knows it.
The Session
Sitting up stage is great time for a photo session and again we are here for you. We will be able to capture all the cuteness and joy on their session. Our sets are simple then as we don't want to distract too much our little models. They love every minute of the shoot and we enjoy it too. The session itself doesn't take too long; usually an hour is enough for all the poses and smiles we need. When booking the session please let us know sleeping patterns for your little model as we need to arrange best time possible (usually after a nap). Please remember that once your baby starts sitting up unaided the next step will be crawling and usually it takes them few weeks to master it. Please don't wait too long with the session as we will be chasing your little one around the studio most of the time.
After the Session
Once the session is completed we will follow our standard procedure with selecting and processing the images.
following week after the session we will post one or two images on our Fan Page
shortly after that we will prepare sneak peek from the session on the Blog; you will be able to get some free prints and we will share all the details once post is published
when all the selected images are processed they will be posted on the private gallery with password for you to have a look and to make final selection; images from this selection will appear in the book and on your USB
we will create your book, order it and once we receive it you will get very nice bundle from us.
We hope to see you on the session and we are sure you will enjoy the end result. Please follow us on social media to make sure you are up to date with all our promotions and special offers.
Combined Package
Although we have separate packages you may be interested in joint option which combines Newborn Session, Sitting Up and 1st Birthday Cake Smash too. The package is called Baby Plan and it will give you an opportunity to have all the session booked on your newborn shoot with the discounted price. Please click link below if you like to know more about our Baby Plan package.